Different Generations & What They Want From Work
Gen Z, millennials, Gen X, and baby boomers have similarities and differences in what they value and seek from work. We have gathered findings from various resources to help employers better understand what to address when developing employee retention and recruitment strategies. 
First, let us outline what years, according to date of birth, constitutes each generation… 
Gen Z: 1997-2012
Millennials: 1981-1996
Gen X: 1965-1980
Baby Boomers: 1946-1964
LiveCareer shared in August one of the best studies we have seen on generations in the workplace. Check out the following graphics on what generations value most, as well as the graphic on what benefits are most important to each generation… 
We encourage you to dig into the LiveCareer study further, as it is packed with some amazing information.
EY also did a recent study and found the following…
DE&I
Gen Z: 39% said it is a vital component when evaluating potential employers
Millennials: Again, 39% said it is an important component when evaluating companies and their culture, and 76% would leave their current employer if DE&I initiatives were not offered
Gen X: No data shared
Baby Boomers: 29% said it has little to no impact on their choice of employment 
Social Issues
Gen Z: 49% said it was a crucial factor in deciding where to work
Millennials: Similarly, 49% said it was a key factor in choosing employment
Gen X: No data shared
Baby Boomers: 57% said it had little to no impact
Flexibility (Hybrid/WFH)
Gen Z: 31% feel that this is one of the "most meaningful things an employer can offer"
Millennials: 35% say that hybrid/WFH options will cause them to look for a new role if not offered
Gen X: 29% will seek new employment in the next year if their current employer does not begin to offer hybrid/WFH as an option
Baby Boomers: In what might surprise some, 33% feel the same way about workplace flexibility
So, increasingly, work-life balance and flexibility will be something your organization needs to focus on, as are DE&I and social initiatives. You cannot view it only as part of your future recruitment efforts but, many would say, even more importantly, as part of your employee retention strategy.
We recommend doing the following… 
Polling current employees to see first see the five things they value most that you currently offer
Likewise, ask your current employees five areas that your organization needs to improve related to employee satisfaction
Be open to the feedback
Take action
From there, work on these two things…
Roll out changes to existing and educate employees on new initiatives based on their feedback 
Highlight all things related to these core areas in your recruitment marketing (including on your careers page)
Let us know if you are struggling with resources on where to start. We are happy to help make some recommendations. 
And, as you look at generations and what benefits they desire most, you can use this helpful graphic from Roundstone…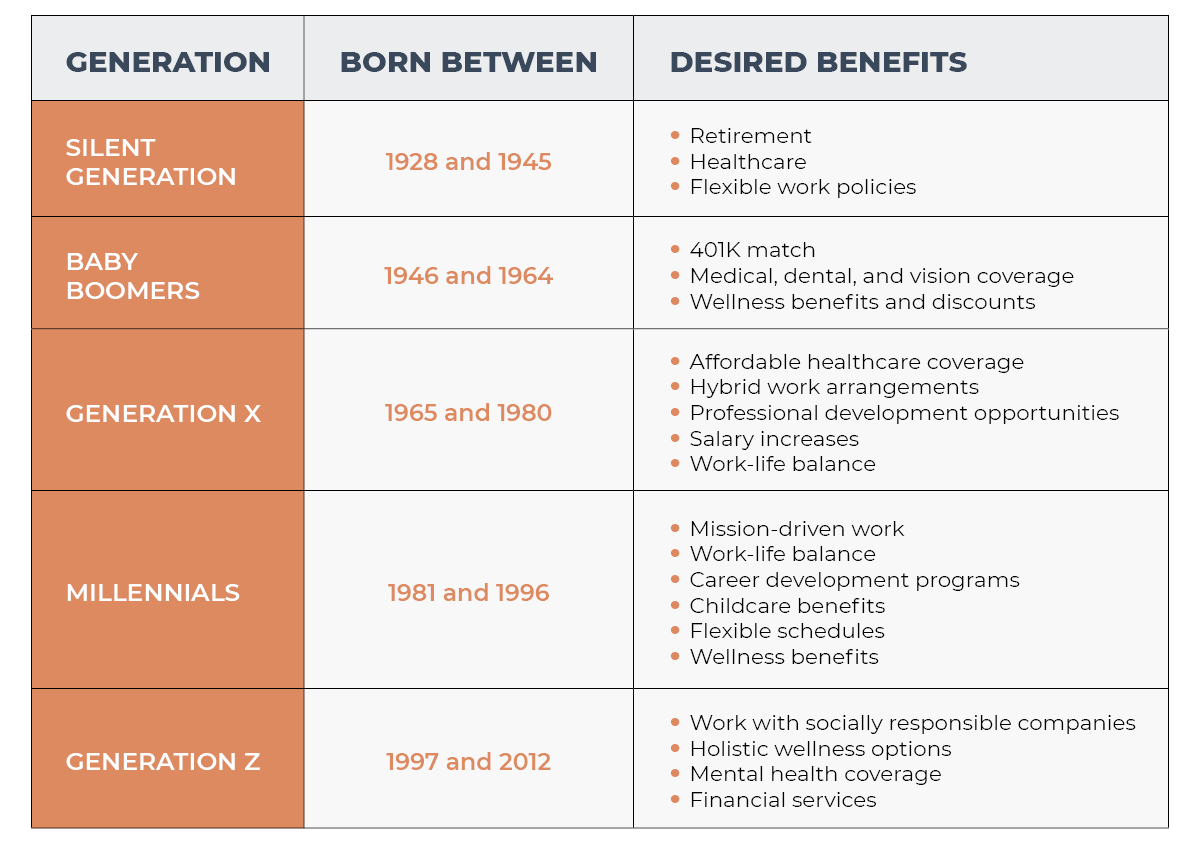 Recruiting redefined; built for high-tech,
high-growth teams