Founder Friday: Melanie Perkins & Canva
Sticking with our Women's History Month theme, today's Founder Friday features Melanie Perkins, co-founder of Canva. For those that don't create graphic and social media content, Cava is the "it" SaaS solution.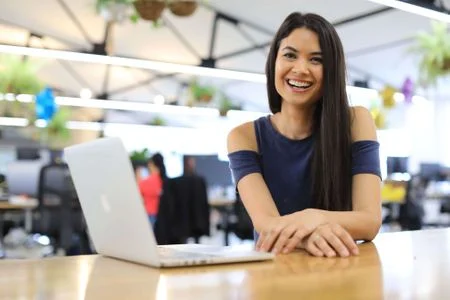 Melanie's story is awesome! Enjoy…
The idea for Cavna came to her dating back to 2006. It was born out of the pain of teaching InDesign and Photoshop to students.
In 2007, it wasn't Canva that Melanie launched. Along the way, she met fellow Canva co-founder Cliff Obrecht. They first co-founded Fusion Books (whose headquarters was Melanie's mom's living room). Their goal was simple, to create a drag-and-drop platform for students to design their own yearbooks.
Fusion Books' success led them to meet venture capitalist Bill Tai in 2009 at an Autrailina pitch competition. By 2011, Melanie and Cliff pitched Bill on the Canva concept. Bill offered to open up his ACTAI Global (then referred to as MaiTai Global and the MaiTai kitesurfing retreat) network to them.
The invitation to be a part of the ACTAI (Athletes, Conservationists, Technologists, Artists, and Innovators) Global community led Melanie to take up kiteboarding. Yes, she learned how to kiteboard to assist in her capital raising.
Through ACTAI Global and an introduction from investor Lars Rasmussen (of Google Maps fame), Melanie and Cliffe met their future technical co-founder, Cameron Adams. By 2012, Canvas Chef was born.
The Canvas Chef name didn't make it very long. In fact, in 2012, it was rebranded to be Canva, and the company was formally founded on January 1, 2013.
In its first year alone, Canva had gained +750k users.
While users might have come easily, funding did not. Melanie recalls 100+ investors telling her "no." She would take their feedback, tweak her deck, and continue to hone her pitch (you can check out the finished 2013 deck here).
In 2019, Cliff proposed to Melanie with a $30 engagement ring. The couple married in 2021.
Later that year, the couple joined the Giving Pledge. By doing so, they have promised to dedicate the majority of their wealth to charitable causes.
In September 2021, Melanie's Canva secured a $200m Series E funding round (total raised $572.6m). That made Canva's valuation a modest $40bn! It also makes it the world's fifth most valuable unicorn.
That same month Melanie announced that she and Cliff had pledged 30% of the company ($12bn) to fight against extreme poverty.
Oh, and did we mention that Melanie and Cliff are non-technical co-founders or that Melanie dropped out of college? Talk about being a source of inspiration for people sitting on an idea and worried about not having the right pedigree.
Sources
*Image Source: Canva Media Kit
Recruiting redefined; built for high-tech,
high-growth teams