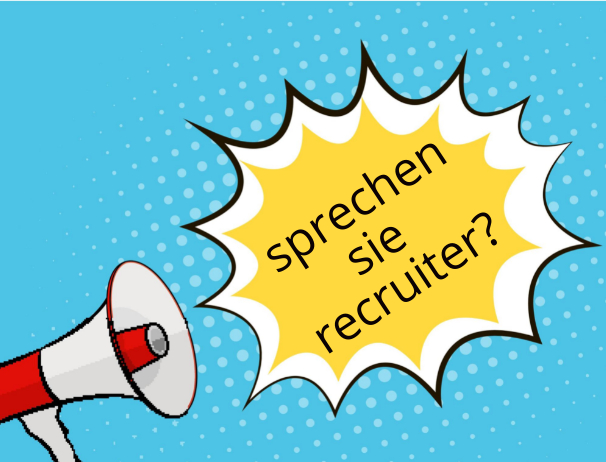 Ever wonder what in the world your recruiter is saying? Well, today, we're breaking down some of the common terms you can hear when working with recruiters…
Client: The company that is looking to hire.
In-House/Talent Acquisition: This is an employer's direct recruitment team.
Agency/Firm/Thrid-Party: This is a recruiting/staffing company external to the employer.
Contingency: A recruiting firm has been engaged, but the client company is free to work with other recruiting firms and continue recruiting for the role themselves (a recruiting firm is only paid if they are the ones to place a candidate in the position).
Exclusive: This can still be a contingent relationship, but the client has contractually agreed that outside recruiting efforts are limited to one recruiting vendor (often, there is a minimum of an engagement fee exchanged).
Retained: This is when a client engages a recruiting firm to "own" the search. The firm will vet all candidates, whether referred internally or externally and take them through a thorough vetting process. You typically see a retained model used for executive, niche, and highly-sensitive openings.
Staffing: This is when a recruiting firm places candidates in contract/temporary or contract-to-hire/temp-to-hire roles where the staffing company is the employer of record, and the employee is paid on an hourly basis.
C2H (Contract-to-Hire)/T2H (Temp-to-Hire): This is when a client has the approval to add a permanent headcount but wants to onboard the employee via a defined contract period. The length can vary according to the role and job function type, but typical contract lengths can be 3-6 months.
1099: This is when the contract employee wants to be placed as an independent contractor and not a W-2 employee of the recruiting firm.
C2C (Corp-to-Corp): This expression can be used as an alternative to 1099, but often it applies to one recruiting firm, the one who has the client relationship, partnering with another recruiting firm, the one who has the candidate relationship.
Permanent Placement/Direct Hire: This is a role where the candidate placed is a permanent employee of the client company from day 1.
Executive Search: This is a term typically reserved for senior-level executive recruitment. Some firms use this term more liberally to apply to all managerial recruitment, and others use it for their direct hire services/searches.
Candidate Ownership: As horrible as it sounds, this term is the rights an entity has to represent your candidacy to a company and/or role. Within the contracts recruiting firms sign with their clients, both the recruiting firm and the client company have candidate ownership defined. Typically, candidate ownership lasts for 12 months.
Right to Represent: This is a written confirmation, typically an email, that a candidate gives to a recruiting firm that they have the right to represent their candidacy to the client company.
DE&I/DEI: Stands for diversity, equity, and inclusion.
Source/Research: Sourcing is the process of identifying potential candidates for a role and covers multiple digital mediums.
Talent Mapping: The combination of using sourcing techniques, market intelligence, talent matrixes, previous hiring practices, etc., to create target talent pools.
ATS: ATS is short for Applicant Tracking System. Both internal and external recruiting teams use ATS systems to store both job reqs and candidate resumes.
Process Map: This can pertain to both contingent and retained searches, but typically it is for retained searches. It lays out, in detail, the recruiting process for the role.
Req/JD: These are short for a job requisition or a job description for the opening being recruited.
Panels: This is short for panel interviews.
You and the recruiter you work with must understand one another; after all, they represent you for the role. If you ever hear a term you are unfamiliar with, stop and ask them before moving further. There is no such thing as silly questions when it comes to hiring or a career move.
Recruiting redefined; built for high-tech,
high-growth teams