Founder Friday: Code.org's Hadi Partovi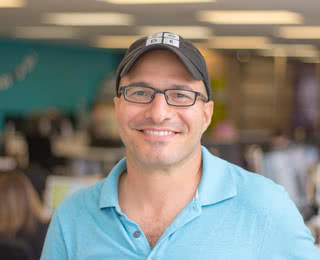 It's CSEdWeek, so we thought we'd stick with that theme for today's Founder Friday, featuring Code.org's Hadi Partovi. No organization has done more to help champion computer science at the K-12 level. Hadi's story is truly an example of the American Dream realized.
Hadi was born in Tehran, Iran. When he was two, his family moved to the U.S. so his mom could attend Boston University and his dad could be a part of a research team at M.I.T. His family moved back to Iran only to find themselves there for the Iranian Revolution. While his school did not offer a computer science curriculum, at nine years old Hadi taught himself to code on a Commodore 64.
In 1984, his family left Iran fleeing the war and to begin immigrating to the U.S. He worked his way through college using his programming skills and graduated from Harvard University with both a Bachelor's and Master's. From there, Hadi…
Went to work for Microsoft
He went on to be a founding team member of a startup that Microsoft acquired
Hadi was then a co-founder of a startup with his brother that went on to be acquired by MySpace
Has been an Angel Investor in companies such as Facebook, Dropbox, Airbnb, Uber, and more
Co-founded Code.org with his twin brother Ali in 2013
Hadi said he had hoped to feature leading technologists in a video to help inspire children to pursue a future in computer science. When Steve Jobs died in 2011, Hadi said that gave him the "onus" to start Code.org.
Code.org launched in 2013. The video starred Bill Gates, Jack Dorsey, and Mark Zuckerberg. In December that year, during CSEdWeek, the first Hour of Code challenge took place. That first year, Hadi and Code.org helped 500,000 students learn to code. In 2018, that number had grown to 500 million. By 2020, that number had grown to over 720 million and 40% of all U.S. students.
We love Hadi's story and hope it inspires K-12 students to explore the world of computer science.
It's not too late to plan on doing Hour of Code with a K-12 student you know. CSEdWeek is ongoing until December 12, and you can find a list of activities using this link.
Resources
Recruiting redefined; built for high-tech,
high-growth teams