Founder Friday: NEXT Venture Pitch 2021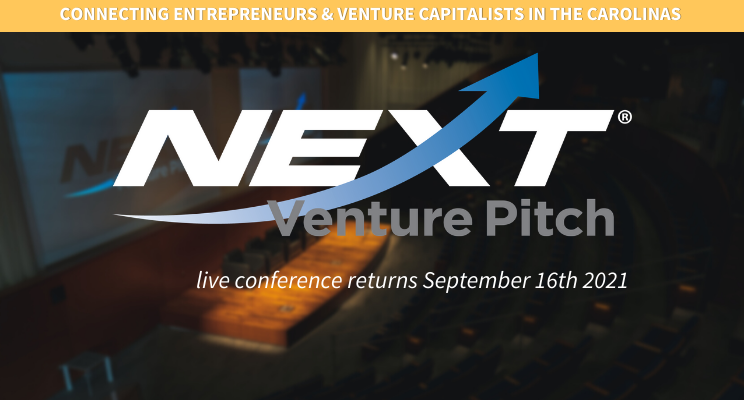 Last Thursday, our co-founders attended the sold-out NEXT Venture Pitch. For those unfamiliar with NEXT Venture Pitch, it is an entrepreneur conference and pitch competition hosted by NEXT in our company's hometown of Greenville, SC. It is also affiliated with one of the nation's top venture capital conferences, Venture Atlanta.
The event was outstanding. This year the 30 semi-finalists submitted their 3-minute pitch videos to be voted on at a screening party held on September 1. 8 finalists were selected for the final pitch competition on September 16.
Before the finals, the day started with a morning session for entrepreneurs…
John Yates from Morris, Manning & Martin kicked things off. He gave great insights into what VCs looked for when investing in startups.
Next, Marty Osborn of Advoco shared tips on negotiating and sales.
From there, there was a fantastic Q&A session with a venture panel that included Mark Flickinger of Panoramic Ventures, Mike Becker of Vocap Partners, Jason Caplain of Bull City Ventures, Richard Fraim of Knoll Ventures, and Elizabeth Feidler of Noro-Mosely Partners.
The afternoon brought the start of the finals. All were impressive. You saw innovation related to professional services, government, retail, healthcare, media, and manufacturing. The founders were from various locations in both the Carolinas and often represented overlooked and underfunded markets. You saw startups already showing strong ARR growth; some even appeared to be already entering that longed-for hockey stick phase.
Along the way, NEXT featured startups to watch. They also brought in successful founders for couch sessions where they took everyone behind the curtain a little…
Goodie Nation's Joey Womack shared his founding story with Kim Seals from The Jump Fund served as host. What a journey and truly is an example of being "for purpose."
The keynote found FullStory's Scott Voigt share his founding story as Accel Partners's Alex Estevez hosted. One of the co-founders of Atlanta's most recent unicorn shared lessons learned along the way but drove home the importance of doing the right thing, even when it could cost you.
In the end, more than 20 VCs from across the country voted, and the 3 finalists were named; 6AM City, Anduin, and DebtBook. Anduin wound up taking home top honors and received the coveted invite to pitch at next month's Venture Atlanta conference.
Innovation is indeed alive and well in the Carolinas. Congratulations to all of the founders, and thank you to NEXT for organizing such an outstanding event.
*Image as posted by NEXT Venture Pitch
Recruiting redefined; built for high-tech,
high-growth teams