Low-Code & Citizen Developers
Recently, we read the VentureBeat article, "Gartner: Citizen developers will soon outnumber professional coders 4 to 1." Now, that is a bit of a sensationalized title, but what a hook!
Gartner first coined the term "citizen developer" back in 2009, so who better to share the definition of what a citizen developer is…
"A citizen developer is an employee who creates application capabilities for consumption by themselves or others, using tools that are not actively forbidden by IT or business units. A citizen developer is a persona, not a title or targeted role. They report to a business unit or function other than IT.
All citizen developers are business technologists. However, all business technologists are not necessarily citizen developers. There is no required designation of proficiency or time allocation for citizen developers but they must be legal employees of an organization."
And while the Gartner definition purposely includes any business unit member creating tools for their team, low-code, no-code, etc., we thought we'd take a deeper look at why low-code is finally taking off.
The concept is not new. Quickbase posted a fantastic timeline last year, "A Brief History of Low-Code Development Platforms"…
It takes you back to 1982 and James Martin's book Application Development Without Programmers
The associated technologies of the time (4GL, CASE tools, and RAD tools)
Why those technologies failed
The evolution of low-code solutions
How to choose a low-code platform
Like many innovations/concepts that came before their time, there wasn't the overall technology ecosystem to support those initiatives. It did not have as much to do with a lack of desire, but data access, data integrity, and security would have compromised.
Again, the desire was there to empower teams and superusers with light coding/scripting backgrounds (growingly referred to as Citizen Developers). After all, who understands the needs of a business unit better than those who live in that space?
And, while many catalysts helped make low-code solutions feasible, several key factors helped usher in this new age of empowerment…
We'll skip the obvious push to the cloud and instead point to bandwidth: namely speed, capacity/load, and availability. The infrastructure had to be there before applications that had always been on-prem moved to be web-based.
Next is the widespread shift to building custom APIs, using APIs as the root for data integration, etc. The ability to allow users to use APIs to connect commonly used applications at their discretion or with minimal assistance needed from internal IT has been a game-changer. It has also proven very flexible and secure regarding controlling what data can be seen, used, by who, and how. It is data access, not data admin rights.
Those two things allowed commercial software shops to shift to modern development practices like CI/CD. In return for the customer moving from having their environment uber customized, they would now always have the latest and greatest features, security updates, etc. And getting more companies to have standardized versions has meant that it is easier to build complementary tools. Just think how much having standardized data structures has meant to innovation.
The evolution of the tech ecosystem also allowed for more real-time data to be gathered and used. It allowed data warehouse/BI teams to harness that power related to reporting and analytics, which impacted key business stakeholders. It also led to data visualization innovation by companies like Tableau. Better data, better analytics, and better visualizations left businesses wanting more.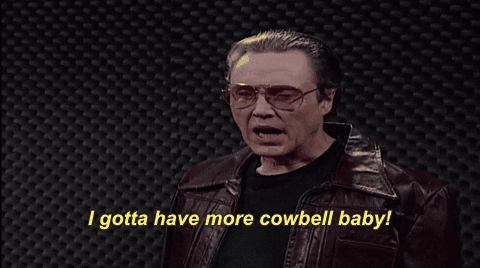 Like anything in the world of technology, many dominoes had to fall for this low-code revolution to occur. We can't possibly list them all, but when you marry technical capabilities, standardization, and non-technical user buy-in together, it helps push adoption. Hence, the low-code revolution.
Here are some additional links tied to low-code if you are interested…
*SNL More Cowbell GIF found via GIPHY
Recruiting redefined; built for high-tech,
high-growth teams