Founder Friday: Are biotech startups a bull or a bear?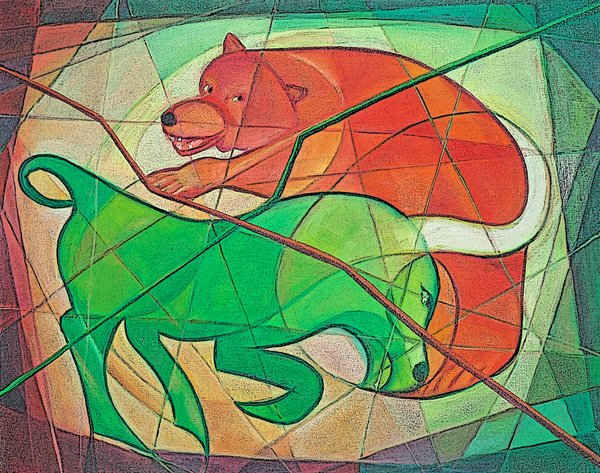 We do a lot tied to supporting digital health startups, so keeping up with what's happening related to healthcare startup transactions is second nature. If you missed it this week, Crunchbase posted, "Which Startup Sectors Are The Bulls And Bears In 2022's Sluggish VC Market?." The article identified three sectors as bulls and three as bears related to startup investing…
Bulls
Cybersecurity
Proptech
Climate Software
Bears:
Crypto
Biotech
Electric Vehicles
They were determined by the number of investment dollars this year compared to last, but Crunchbase also shared the causes for the slowdown.
Interestingly, when you compare the list of bull and bear sectors to Investopedia's recent article "Industries That Can Thrive During Recessions," you see that the trends don't always add up…
Discount Retailers
Health Care
Food & Restaurants
Freight & Logistics
DIY & Repairs
Namely, biotech jumped out to us mainly because the sector is part of healthcare, a recession-resistant space. Also, some of the top performers in the 2008 S&P 500 and two of the top 10 (only 25 S&P 500 stocks had a positive return that year) were biotechs (Vertex Pharmaceuticals and Amgen).
So why is Crunchbase down on biotech? They aren't necessarily down on biotech, but compared to last year, investments in that sector are way below 2021's total. They also point out that biotech startup stocks haven't performed well post-IPO.
How bad have they performed? In February, Fierce Biotech published "The top 10 biotech IPOs of 2021." When they released the story, only one in the top 10 (there were 100 listings last year), Verve Therapeutics, had seen their share values increase. The remaining nine lost, on average, 40% of their value. Check out the below graph.
BioPharma Dive shared a comprehensive database for 2018-2022 biotech IPOs in yesterday's post "After a record run, fewer biotechs are going public. Here's how they're performing." One thing they said that jumped out to us is that IPOs are the "lifeblood of the biotech industry."
So if IPOs are the sector's lifeblood, why do we see the slowdown in going public? Fierce Biotech also published the related article, "Biotech IPOs in the current market environment? Experts say it's 'a bit silly, if not suicidal." In it, they stated…
Too many startups went public when they were still preclinical.
The average biotech IPO fell 22% last year.
And if you saw our post "Founder Friday: Sequoia Capital "Adapting to Endure" – It's time to embrace the muck," money has gotten more expensive. Thus cash-intensive sectors with long-range returns won't be seeing as many investments in the near future.
So if biotech is a bear, what sector do you see as a bull for startup dollars? No, seriously, our demand gen team would love to know.
Recruiting redefined; built for high-tech,
high-growth teams